Neelands Helps Customers be More Resilient and Decrease their Carbon Footprint
September 30, 2021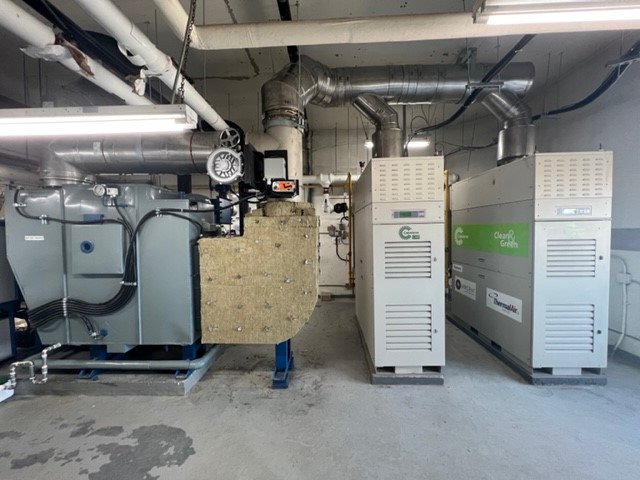 As the demand for energy continues to grow, it is becoming more and more expensive and we are seeing detrimental effects on the environment. It's no surprise that many businesses and individuals are looking for ways to reduce costs and their energy consumption.
One way is to use combined heat and power (CHP) or combined cooling heat and power (CCHP) technology in their buildings. Simply put, this technology uses microturbines that spin at 96000 rpm to generate electricity for the building and the excess heat that would otherwise be lost is used to provide heating and cooling.
The result is a more reliable, cost efficient and energy efficient building.
Many condo boards and residential buildings can make use of this technology to reduce their reliance on an electric chiller and increase its lifespan. A condo building in Scarborough worked with Neelands, a leader in sustainable heating and cooling solutions, when they were considering a new chiller. Neelands helped evaluate their options and partnered with Vergent Power and World Energy to develop and install a CCHP system that uses natural gas in an efficient manner to generate power and utilize waste heat.
The CCHP system installed at the condo in Scarborough will be the full-time power system for the building. By installing and using CCHP technology, the building and the residents should be able to see reduced heating bills by 35% percent as well as a resilience of power supply.
In 2016, the U.S. Department of Energy (DOE) issued a report on the technical potential of CHP and found that CHP systems can reduce use of the electric grid while lowering greenhouse gas emissions, concluding that "CHP is a clean energy solution that directly addresses a number of national priorities."
"Neelands has been at the forefront of sustainable solutions and technology, but CHP and CCHP systems are not just a technical solution," said Noel Neelands, President of Neelands Group. "By implementing these technologies, we're helping our customers be more resilient and decrease their carbon footprint."
If you are interested in learning more about sustainable technology for your building and your businesses, please contact us. We would gladly put you in touch with one of our sustainability experts to discuss your options and help you decide what makes most sense.